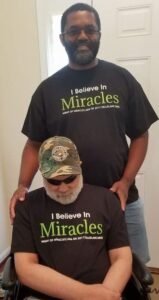 I had the pleasure and honor of knowing my dad. While I did not get to spend every day with him when I was born, I had many opportunities to spend time with him and learn a lot from him. Though my dad and mom were not married, he kept in touch with the rest of the siblings and us to see how we were doing. I enjoyed our phone conversations when I was young and did not want to be on the phone when I was in trouble. My father did not mistreat me, but as a father is supposed to do, as stated in the bible. Ephesians 6:4 states, "Fathers, don't make your children angry, but raise them with the kind of teaching and training you learn from the Lord."
After my mom passed away in 1995, I moved in with my dad. Initially, I didn't say much, but my dad was patient with me. He offered me his bedroom, as he slept on the couch in the living room. To help me cope with the loss of my mom, he searched and found a counselor. He provided more food and drinks than he anticipated (he was shocked I could eat a whole chicken at such a young age). Throughout my time with him, I learned that he sacrificed a lot and humbled himself not just for me but also for others. However, one of the most important things I learned from my dad was the importance of being connected to our Lord and Savior, Jesus Christ.  In addition to talking about God, he will spend time reading the Word, listening to the Gospel, and living an example of what every Christian should be doing. These lessons I learned from my dad helped me take care of him when he needed 24/7 care. It was an honor to care for my dad during his final seven to eight years on earth. That was the least I could do. After all, he served twice in Vietnam, helped with my class as a parent volunteer, supported me through college, and even helped start our nonprofit, KidsSTREAM. 
As a tribute to my dad and all those out there who are dads or mentors, here are five lessons my father, Master Sergeant Vernon Myers, taught me.
Keep Jesus at the center of all things at all times.

Don't forget that Jesus is ahead of you, blazing a trail and is waiting for you.

Jesus will always protect you. Spend time with Him and listen to His wisdom.

You have Jesus by your side at all times, even in the good and bad times.

You are always under the watchful eye of Jesus. Meditate and pray with Him often.
To hear more about the lessons I learned from my father, please click on the podcast below.